Since 1954
The brand's name came from Jia Ching Chemical Plant (which the founder Wu Sheng Wang once co-founded with friends) and a part of the founder's name: "Sheng". Ching Seng Tong was officially opened at Guangtsai Street in Chiayi in 1954, after Wang successfully developed his own hair oil product. It has now a history of over six decades, and developed a number of popular products.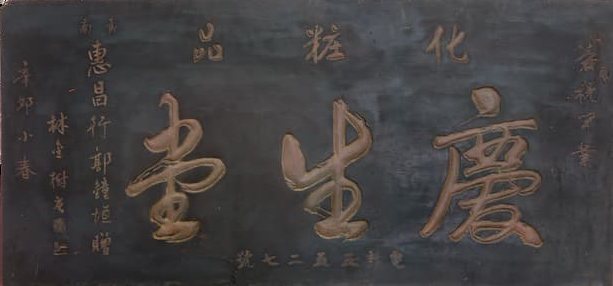 The Early Stage of Ching Seng Tong Wu Sheng Wang
Wu Sheng Wang started the business launching hair oil―for the use of a hairstyle known as haikara (ハイカラ 海角仔頭)―without the general unpleasant smell. Wu Sheng was born in poverty to a poor family, and had to try to earn the livings for himself and his family. He first tried to sell hair oil, and found that the hair oil made in this manner would possess an unpleasant smell. After times of experiment, he successfully produced hair oil without the smell by adding banana oil to the product. And this was the point where his life turned and cosmetics became the business of a lifetime.
His brand is known to the customers as the most sincere in both the products and the attitude. He came to Chiayi in 1945; it was during the Japanese colonial years and restrictions over oil materials were strict, he and his friends secretly coelectric barrel oilllected lamp oil to manufacture hair oil The time was hard, and he once even ended up in police station. Yet he never quit trying. He changed the raw material from lamp oil to peanut oil. He paid effort to every single one step of the whole process. He personally selected the raw materials and then transported them on a borrowed bicycle. With the principle of a life time―honesty, modesty and treating everyone as friends―and the support from his wife, Ching Seng Tong gradually gained its name among the customers.
The research and development done during the early stage resulted in marvelous performance
Wu Sheng Wang settled in a 33m2 wooden house at Guangtsai street in 1954 as his factory and his own home. With his own developed formula and manufacturing process, he produced various products for a number of brands including Waltz, POLABIS and One Beauty, and also launched a series of his own brand collections including anti-spots cream, facial wash, baby powder and tooth powder. He was dedicated in the work of research and development. Two years later, he became the first one to add mutton tallow to his secret formula, creating the facial cream that immediately became a hit. After that, Ching Seng Tong was finally founded and cosmetics became the founder's lifetime mission and business.
Not just research and development: Ching Seng Tong's marketing
After the company was founded, in order to promote their name to the public, Ching Seng Tong once invited a number of celebrities―including Ji Lu Xia, Xie Lei, Liu Fu Zhu and Hou Shi Hong―to attend the launching event for their new product at theaters in Chiayi and Xinying, where people could get a free ticket to the theater with purchase of a facial cream. This way, the Ching Seng Tong's facial cream soon became the most popular local product, and it has stayed that way until the brand's lipstick product being launched afterwards, which created a new trend and brought Ching Seng Tong into a new era. Though being illiterate, Wu Sheng Wang had his own precious knowledge in the area of customer relationship, product research and development, and marketing. He knew the importance of maintaining his business while also had the courage of innovation. His attitude towards people and his passion for the cosmetic industry will be passed on for generations.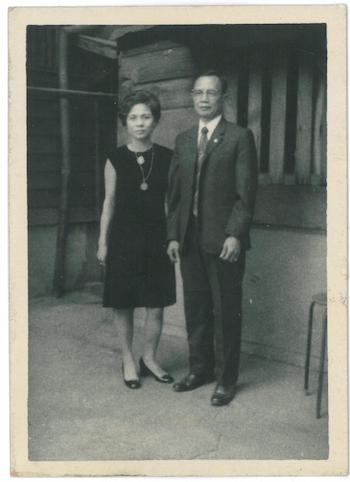 Ching Seng Tong's survival Yao Hui Wang
Very experienced in a very young age
Yao Hui Wang had his adolescence rebel at a young age, yet there's still characteristics he shares with his father that showed nonetheless: he is passionate and cherishes everyone as friends. He has the talent of making friends wherever he went. It's probably the blood of a businessman running in his veins that made him travel around different places and went through various working experiences. He once planted white leadtrees at Jiashian and Liouguei in Kaohsiung and along the coastal line of Hengchuen, planning to provide for Formosa Plastic as the raw material of pulp. He spent all his time and effort, long away from home, yet didn't get the result he was hoping for. The trees were sabotaged and destroyed by mice in the mountains. In the end he came home to take over the family business in 1984; there after he finally found a steady developing environment, and had also written an impressive new page on the history of Ching Seng Tong.
Creating the new trend of mini lipsticks in Taiwan
A trip to Japan in 1986 gave Yao Hui Wang an idea. There he noticed the brand Sheseido (Japan) had been giving their customers mini-sized lipsticks as gifts, and discovered the value in mini lipsticks. He began producing this kind of product after coming back, and successfully created a trend in Taiwan, making mini lipsticks a must-have in every woman's purse. The profit mini lipsticks brought to the company was huge; Ching Seng Tong soon began to expand their factories and making investments overseas, including Indonesia and Nanping of China. In 1992, transfer resistant lipsticks were launched and again became a hit in Taiwan and Indonesia.
Investment setback and health problem
Unfortunately, owing to investing and expanding too quickly, incorrect evaluation towards investment in China, and the financial crisis in southeast Asia, Ching Seng Tong soon found itself facing serious financial problem. Subsequent problems one came after another, hitting them hard and unexpected. And things got even worse―for Yao Hui Wang spent most of his time working around the world, dedicating himself to his career, he was already exhausted; and now that he had to deal with not only the pressure of running a company but also the financial crisis, his health gave in. He was diagnosed of lung cancer at a young age, and passed away in August 1997, just three months after the diagnosis.
The one who contributed to the survival of Ching Seng Tong: a great woman
The misfortune struck Ching Seng Tong without warning; the whole company was suddenly like a vehicle without steering wheel. The family members were in grief, and the employees also took it very hard. No one at that time thought Ching Seng Tong could survive the devastating situation…yet it was Hsiu Huei Lin, wife of Yao Hui Wang, the one that suffered the most tragic loss, stood up and led them through the crisis. She put her grief aside and took over the responsibility in the company while looking after three young children at the same time. And later when Qi Qing Wang took over the company, she was still his most powerful support.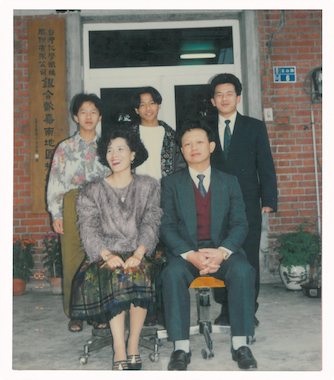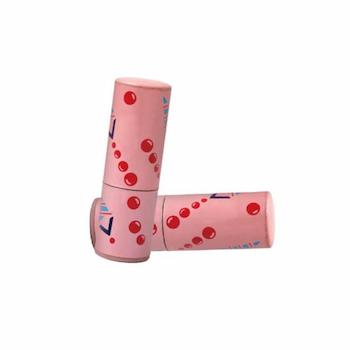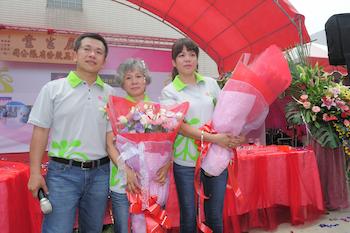 The resurgence of Ching Seng Tong Mr. Qi Qing Wang
Having a rich experience of doing business at a young age
Being the third generation in the family, Qi Qing Wang experienced the highs and lows of the family business when he was still a kid. There were days when they have to move frequently because of the debt they owe, and there were days when they are loaded with money and very well off. At a very young age he was already more experienced than many others; and this resulted in a more mature and independent personality. After graduating from high school he found out that his family is actually in a massive debt. This graduation gift sent from the reality world is something he has to face and couldn't turn away from. The young man sought for various ways of making money. Before and a while after he'd done his duty of joining the military, he and his friends were selling cigarettes and cosmetics to betel nut girls and department store salespersons. And during his service period, he would make use of the holidays, purchasing products and selling to his comrades. After leaving the military, he came back home to help in the family business while also raise funds to start his own sales company, which he ended upon his father's death.
The ending is not here―taking over the heavy responsibility of Ching Seng Tong
For his father spent most of his time working, they rarely had time to stay together and interact like father and son. It was when his father suddenly diagnosed with cancer that they shared the most intimate time together in their lives. In the succeeding three months after the diagnosis, they talked a lot in the hospital. And then his father passed away, leaving three things for him to keep in mind. The most important among all is to hold the principle of honesty and sincerity in life; this later became the most valued principle he insisted when running the company. After his father's death, he took over the responsibility of the whole company regardless of the difficult situation, and worked from scratch to save their business. He knew that, under the circumstances, he'd had to pay extra effort to achieve his goal. It is common for him to work in the lab for days in a row or work late into the night. Exhausted as he was, quitting was never a choice. He even spent his holidays traveling around, studying and learning knowledge relating to cosmetics and corporation management. It is until the company was facing severe trouble of check bouncing, caused by overwhelming interest expense and bad debt from clients, that he finally slowed down the high-speed pace in life and thoroughly rethink the position of the company and how to run it correctly. Being persistent and well-connected, he sought for support and assistance from partners, clients and relatives and friends. With their help, the history of Ching Seng Tong is still continuing to a new page.
Starting over―creating high-end product and brand image
After the reconsideration of the whole company's policy, Ching Seng Tong decided to first go for the product line that they are most familiar with: lip product. This time they aimed no to develop low priced mass production items, but to create high end products with unique characteristics. This way, they successfully became a distinctive brand which may be easily distinguished from others. After seven years of hard work, Ching Seng Tong earned their success. The launching of transfer resistant lipstick was a hit, which later became the star item that Ching Seng Tong manufacture for various brands and also the most representative achievement during the period. This trend even expanded to the Middle East, Europe and the US, flying off the shelves all around the world. The launching of transfer resistant lipstick marked a milestone for Ching Seng Tong; from this point, they regained their strength from the financial crisis and got back on their feet again. The name of Ching Seng Tong was once again known by people, and this further encouraged Qi Qing Wang's confidence and motivation for developing and producing more high quality products.